GOA will be at Florida Carry's 4th Annual Open Carry Camping Event in Ocala, FL this Weekend!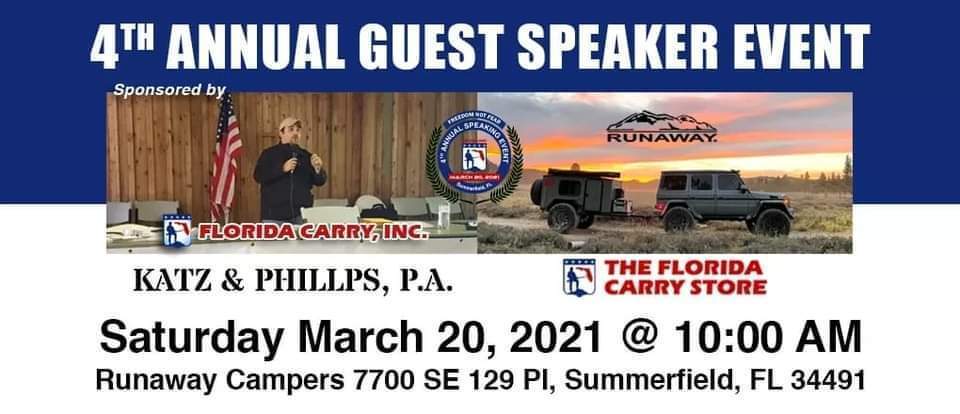 Florida Carry is hosting their 4th Annual Open Carry Camping Event
Where and when you ask?
At 7700 SE 129th Place, Summerfield, FL 34491 on Saturday, March 20, 2021 at 10:00 AM – 4:30 PM.
You can contact the event location by phone: (352) 342-9737 or email: info@runawaycampers.com.
Special Guest Speakers Include:
Erich Pratt. President Gun Owners Of America
Craig Deluz. Host Of The Gunshine State
Amanda Suffecool. Host Of Eye On The Target Radio
Dan Wos. Author Good Gun Bad Guy
Holly Wojcik. Mental Health Professional
David Katz. The Firearm Firm
Amy Dillon. Ret. US Marine Drill Instructor, Firearms Trainer and Writer for Shooting Industry Magazine
David Smith. AKA Shaky Dave The Parkinson's Shooter
Cheryl Todd. Host Of Gun Freedom Radio
Patrick Collins. Firearms Instructor and Educator
James Philips. The Firearm Firm
There will be some surprise appearances during this event including guest host and a round table.
Recent GOA News & Updates